Wellbeing
Spring Term:
Our Big Sisters completed their Youth Mental Health Champion Training and are now officially joining their new Big Sister forms! The aims of The Big Sister Programme are to: develop the resilience, perseverance, empathy and leadership skills of the Big Sister herself + provide a dedicated role model and safe person to talk to for every member of the student community + increase the level of confidence and self-esteem of our student community + foster a culture of sisterhood and support. Our Big Sisters have completed many hours of training to prepare for their role and the Big Sisters will be supported themselves with fortnightly supervision! We are all so excited!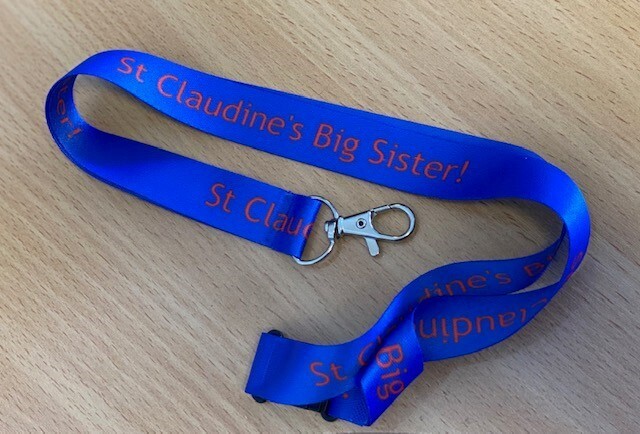 In honour of Children's Mental Health Awareness Week, we held the 2nd annual Wellbeing Day @school and @home and it was a BLAST! Our wonderful teachers led sessions including Ms Anderson leading Dance, Ms White and Ms Palmer leading Singing, Ms Mitchell leading Baking, Ms Juerakhan leading Mindful Colouring, Ms Pearce leading Mindful Origami, Ms Burnaby and Ms Patel leading Yoga, Mr James leading Table-Tennis and TikTok Dance Competitions Ms Jaafray leading Mindfulness and Meditation and Ms Johnson leading Trampolinging. Feedback from our students included: "Taking part of Well-being Day has taught me to take care of myself more. It has allowed me to take a break from all the stress and pressure of days to day life"; "it has taught me to be joyful, relaxed and calm to others around you and to have a blast in your school"; "looking after your mental health is just as important as physical"; "I have more around me than I think and realise" and "the body can be healed by the power of breath."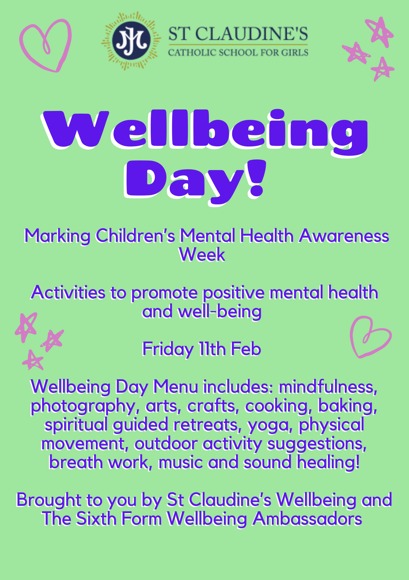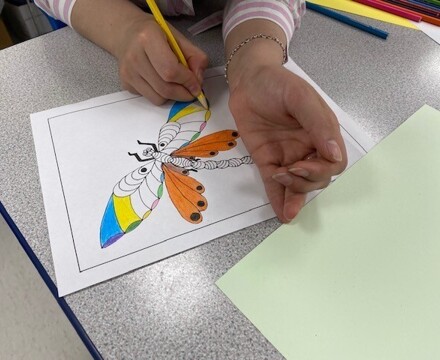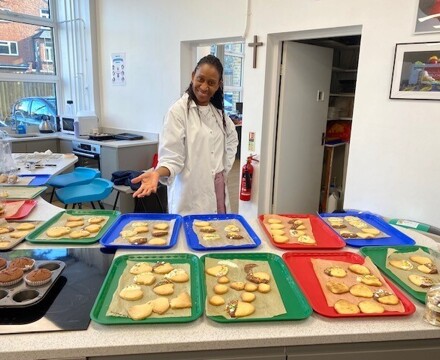 We secured 'The Zen Project' to join us during Children's Mental Health Awareness Week and they provided sessions for our Sixth Form focused on breath work, sound healing and meditation in their big converted American School Bus!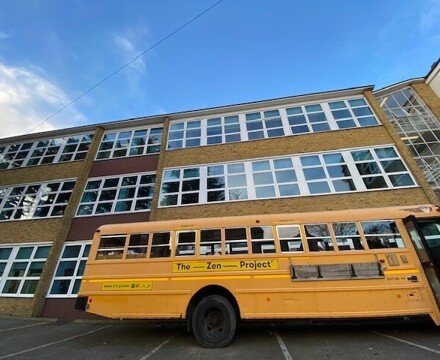 We secured 350 Happy Space Journals for the tutors and forms in Year 7 and 8 and the students have loved having a space to write and reflect during form time!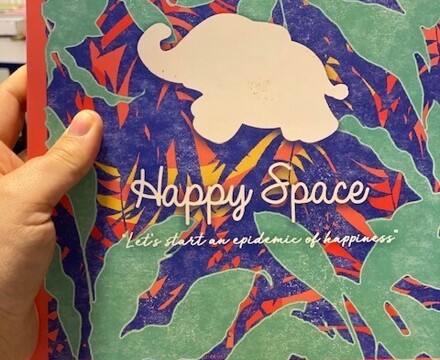 We led the International Women's Day #BreakTheBias forum in the Library and enjoyed fresh fruit, cakes and chats about who our inspirational female leaders are, which industries we must continue to break the bias and how we feel as young women in 2022! It was a beautiful sharing space! Thank you to Ms Lawrence, Ms Massicott, Ms Palmer and Miss Michael for joining too!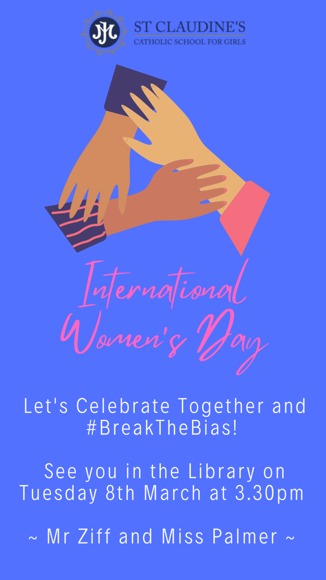 We have lots of Wellbeing Initiatives and clubs led by Ms Jaafray, Ms Pearce and Ms Sylvester-Charles too including – Wellbeing Club after school and Board Games Club as well as the 'Big Blue Box' for anonymous sharing and support!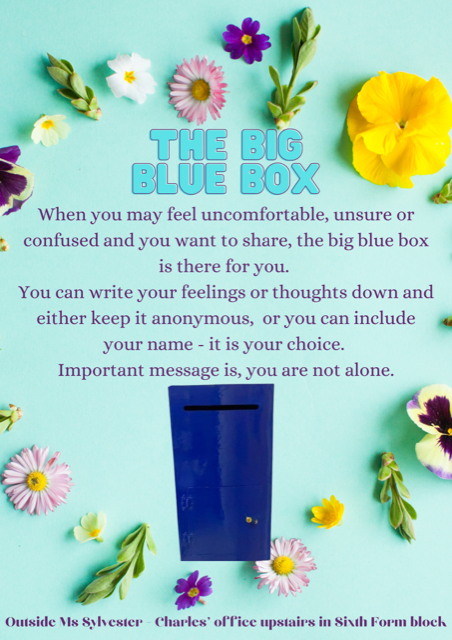 ---
2021-22 – The Year Ahead!
Winter Term
Our Sixth Form Wellbeing Ambassadors: Rhianna, Precious, Diora, Amber, Laura, Chantaye, Saron, Treianna, Dionne, Alicia, Aimee, Kalilah and Jada are now certified Youth Mental Health First Aid Trainers with Mental Health First Aid England as they received £2000 successful grant funding from mental health charity We Are Beyond! This training will be the foundation of our upcoming 'Big Sister Programme' launching January 2022!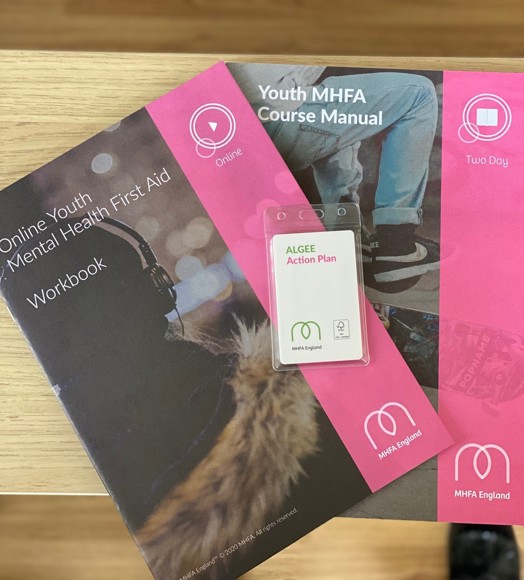 Online Youth Mental Health First Aid Workbooks 2021-22
Well done to five of our Sixth Form Wellbeing Ambassadors - Precious, Amber, Chantaye, Rihanna and Diora and Student Leadership Member Maryanne along with Valentina and Joana all in Year 13 who participated in a virtual 'Student Voice' forum with the Mental Wellbeing Policy Team in the Department of Education. They advised on mental health policy for students across UK and become part of the 'Mental Health in Education Action Group' led by the government's newly appointed Youth Mental Health Ambassador Dr Alex George and Department for Education Ministers.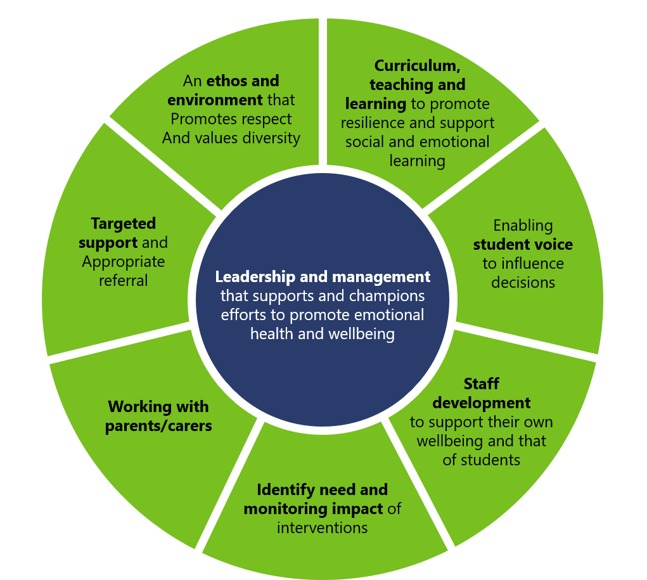 The Eight Principles of Emotionally Healthy Schools – Transforming Children and Young People's Mental Health Provision, A Green Paper
The Sixth Form Wellbeing Ambassadors have now recruited 24 Year 12 and 13 Big Sisters to be part of The Big Sister Programme! The Programme aims to enhance a sense of sisterhood in the school; ensure each student has someone they can chat to and talk with within our student body; and aims to enhance the experience of students in Lower, Middle and Upper School.
Having a Big Sister in each form will provide every St Claudine's student someone to be able to talk to about their own positive mental wellbeing. Big Sisters will receive the privilege of being placed with a specific Year 7-11 form class for regular form time and PSHE sessions and to support our amazing form tutor team with their pastoral care for their tutees! They will have Mental Health Champion training in order to begin in Jan '22.
Our Big Sisters are Year 12 - Becca, Gloria, Gwendolyn, Ashley, Andrea, Amy, Laura, Stella, Nadhisha, Layan, Rebecca, Zainab, Elena, Rebeka, Syeda, Hannah and from Year 13 – Precious, Johanna, Amber, Rhianna, Monalynn, Alexandra, Leoncy and Tabitha! We can't wait for it all to begin!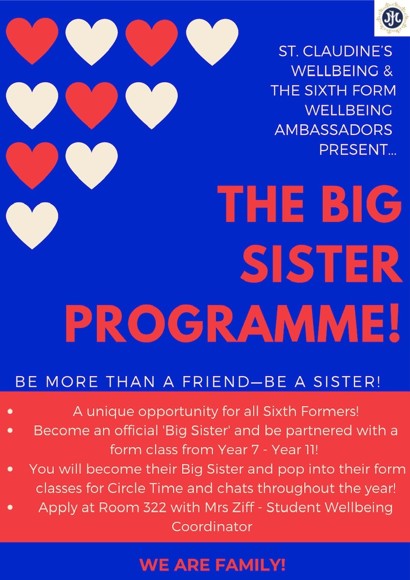 The 'Big Sister Programme'
Working with Ms Malsher our wonderful Librarian, St Claudine's Wellbeing has produced an extensive list of resources for varying mental health issues including fiction, self-help books, useful websites and supportive apps. We hope this resource is valuable for the students and their parents and caregivers and our wider staff here at our St Claudine's community.
St Claudine's Wellbeing – Mental Health Support and Resources
Check back during the Spring and Summer Terms for the start of The Big Sister Programme, our upcoming annual St Claudine's Wellbeing Day, Mental Health Festival for Children's Mental Health Awareness Week and our Awareness Carousels for Mental Health Awareness Week.
~ Mrs Ziff and the Sixth Form Wellbeing Ambassadors! ~
2020-21 - A Review!
Our Sixth Form Wellbeing Ambassadors were hard at work behind the scenes to ensure we were all supporting the emotional wellbeing and positive mental health of our fellow students as they went through an incredibly unusual and difficult academic year!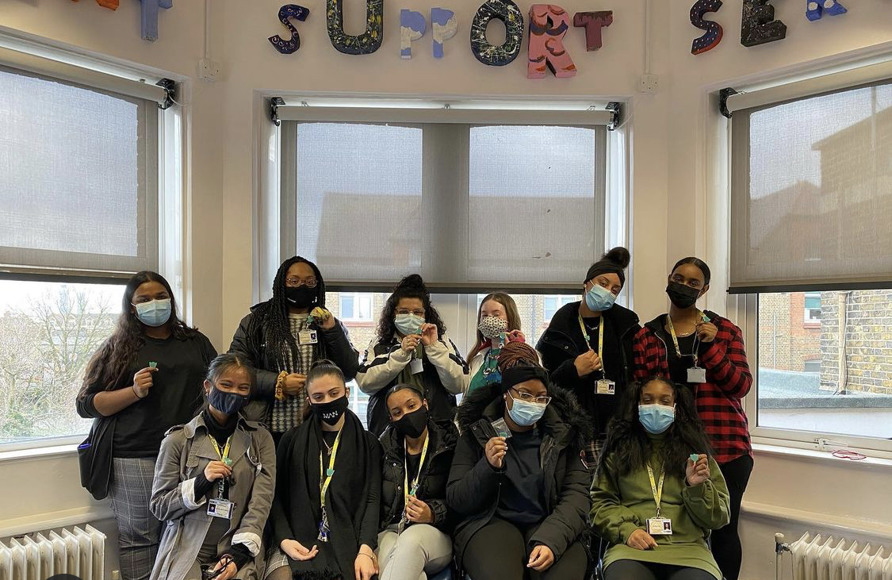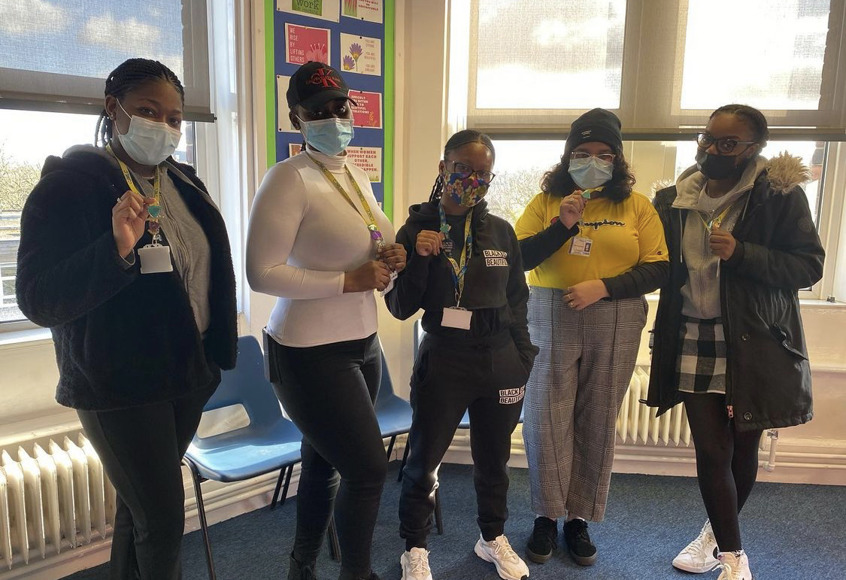 Our Sixth Form Wellbeing Ambassadors 2020-2021
In 2020-21 Our Sixth Form Wellbeing Ambassadors have:
Produced PSHE lessons including:
For the September 20' return to school – 3 lessons on 'Sleep', 'Mindfulness' and 'Self-Care'
For the October '20 Young Minds – '#HelloYellow Campaign'
For the Jan-March '21 Lockdown – 2 lessons on 'Productivity' and 'Goals'
For the return to school in mid-March '21 – 2 lessons on 'Promoting Hope and Connectedness' and 'Promoting Self-Efficacy and Gratitude'
For the May '21 Mental Health Awareness Week – 'Connecting with Yourself'
Created the 'Combat The Stress Toolboxes':
The 'Combat The Stress Toolboxes' are filled with grounding techniques, breathing exercises, positive affirmations and messages from the ambassadors, aromatherapy mindful essential oil smells and multiple stress toys! These have been placed and used in the Library, Inclusion Room, Mentoring Room, Medical Room, Sixth Form Common Room and all the Pastoral Support Manager offices.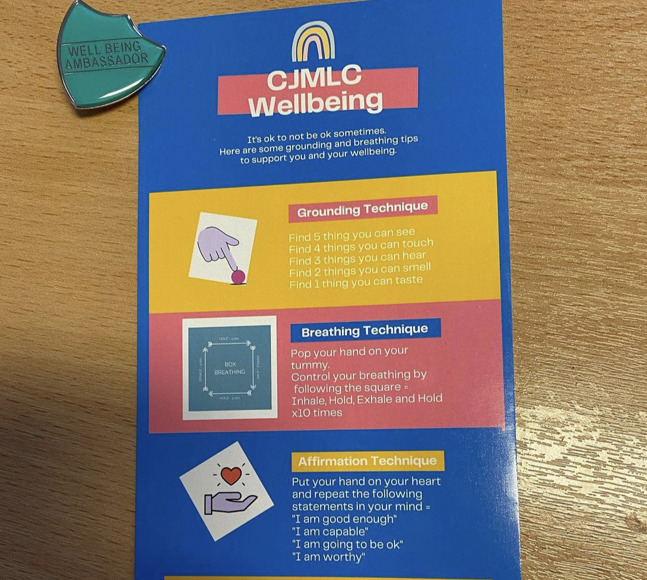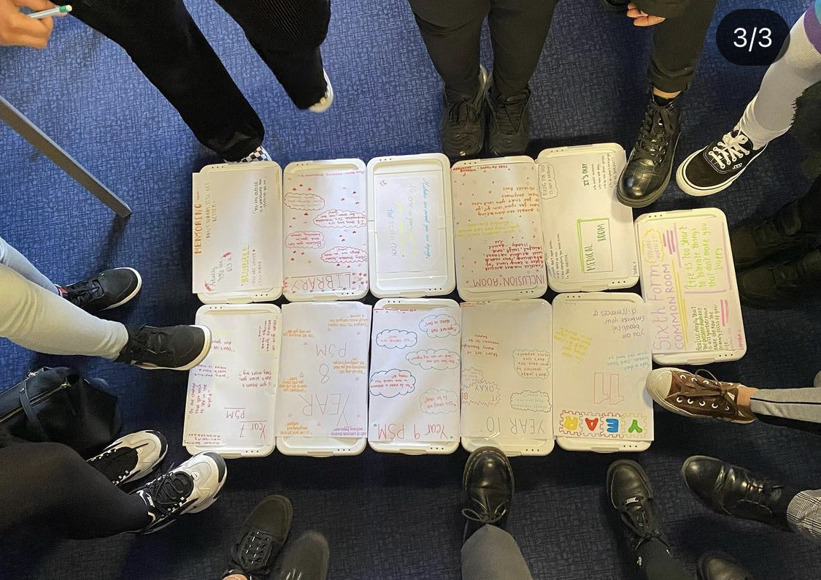 'Combat The Stress Toolboxes'
Organised the first annual school-wide 'Wellbeing Day'
To recognise the Feb '21 Children's Mental Health Week' the Ambassadors organised for all staff and students to have a chance to relax, recuperate and renew their mind, bodies and souls!
Wellbeing Day was an opportunity to rest from online school studies and engage in activities which boosted our happiness, self-esteem and overall emotional wellbeing!
Staff and students were provided with a plethora of different Wellbeing activities to choose from including: Yoga, Working-out, Cooking and Baking recipes, Origami tutorials, Nature Walks, Guided Meditations, Guided Spiritual Reflections and Guided dance and worship to name but a few!
The response was phenomenal with reflections including:
"That sometimes you need to take a break and have time to think about the things going on around you and have some alone time with yourself." – Year 12 student
"Taking a pause from a rigid and structured timetable can really make me feel relaxed and motivated." – Year 11 student
"Taking part in Wellbeing-Day has taught me that, all though we are privileged with technology, family time, and time to just be away from the screen is as relaxing as it gets :)" – Year 7 student
"To slow down, make some space in your head to enjoy what life has to offer." – RE Teacher and School Chaplain
"That sometimes it's good to take a moment just for yourself, life goes by fast and we need to take care of ourselves too"
"The school cares for us" – Year 9 student
Students reflected completing a questionnaire and the results spoke for themselves! The words chosen to describe their Wellbeing Day were calm, grateful, peaceful, joyful, and happy and the most chosen word was relaxed!
~ Mrs Ziff and the Sixth Form Wellbeing Ambassadors! ~