Common Good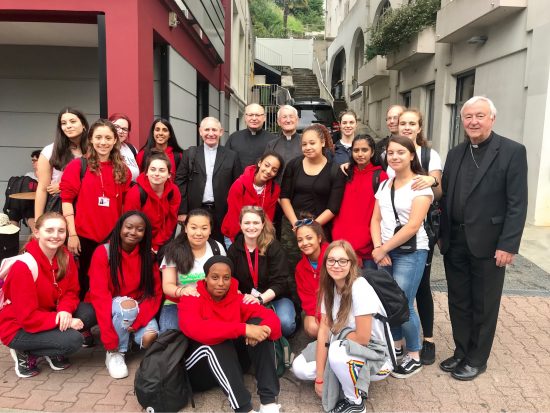 As a school, we strive to contribute to the good of each other and the school as well as our local community and the world. In this way, we use our gifts and talents to serve others and to witness to Christ.
Charities
There are two major charitable fundraising seasons each academic year, in Advent and Lent. As a school community we choose one or two charities to support and aim to raise £100 per form group. Some recent events include a tea party, sponsored read-a-thon and a Santa Dash.
During the year, we give our support to other charities including, Macmillan Cancer Support, 'Wear It Pink', and the ShoeBox Appeal.
Lourdes
Each July a group of sixth formers joins the Westminster diocesan pilgrimage to Lourdes as 'Red Cap' helpers to elderly and infirm pilgrims. Students who volunteer spend several months fundraising and preparing for the experience.
Fairtrade
We became a Fairtrade School in July 2013. Our student group organise events during the year and keep up-to-date with campaigns and issues. We raise awareness in our community by inviting organisations and individuals to share their stories about Fairtrade.