St Claudine & Sisters of Jesus and Mary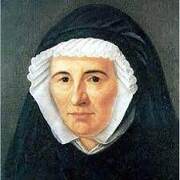 Claudine Thévenet was born in 1774 at Lyon in France. Her family were extremely devout and Claudine was educated by Benedictine nuns of St. Peter's Abbey, in Lyon. In 1789, the French Revolution broke out. Lyon was particularly afflicted by the violence of what became known as 'The Terror'.
Two of Claudine's brothers joined the anti-Revolutionary forces. Each night, when the fighting had subsided, Claudine would walk through the battlefield, amongst the dead of the defeated army, to look for the bodies of her brothers.
The revolutionary government in Paris ordered a brutal repression in Lyon as an example, and those who had fought against the revolution were to be executed. Claudine found her brothers in time to witness their execution. Their last words to her were: 'Forgive, as we forgive.' These words were to inspire Claudine for the rest of her life, although the shock of seeing the brutality of her brothers' death, and that of her uncle, is said to have gravely affected her health.
Claudine began to care for orphans and abandoned children in Lyon at the request of her parish priest. In 1816, with Father André Coindre, she formed a group that would become the Religious of Jesus & Mary, an order dedicated to the education of poor girls. She took the name Mary of St Ignatius and served as superior of the order, which received papal approval from Pope Blessed Pius IX on December 31st 1847, and today runs boarding schools, colleges, and retreat houses in Europe, India and North America.
She was beatified on October 4th 1981 by Pope John Paul II, and declared by him to be a saint on March 21st 1993. Founders' Day is 6 October and the Feast Day of St Claudine is 3 February.
The Religious of Jesus and Mary (RJM) founded our school in 1888. Most of the Sisters are now retired and live in Felixstowe. They are very welcome visitors to the school and often visit during the year.